Thinking about signing up for the dating service Match? Completing a profile takes somewhere between 10 and 15 minutes if you put some effort into it. So, what can you expect when you create a profile on Match?
What profile questions does Match ask during the sign up process?
We've got two options for you. Watch our 7-ish minute video, below, that takes you through the entire sign up process. Not a video person? Keep reading for a breakdown of all the profile questions.
---
---
Here are the questions you'll encounter when creating your free Match profile.
Who you are seeking: (e.g. man seeking a woman within age range of 35 to 45)
Your basic details:

postal/zip code
birthdate
first name
email address (not shown on profile)

About you:

height
body type
relationship status
whether you have kids
whether you want kids
education level
smoking habits
drinking habits
ethnicity
religion
"what makes you the happiest?" — i.e. select from a wide list of interests and activities.

About your match:

age range
height
marital status
education level
whether they have kids
whether they wants kids
religion
ethnicity
smoking habits
drinking habits
body type

Topics: Pick 3 questions and answer them (examples: favourite place to hang out; for fun I like to; worst job ever had; legitimately bad at; favourite quality in a person…)
Photo(s): Yes, you need to add a photo right off the bat, so have one ready. They also help you scoop one from your Facebook account, if that's easier.
Verify yourself: Enter your cell number and receive a text message
Then, you're live on the site! Don't stop there, however. There's still more you can add to your profile to help others understand what you're like (and what you like!)
Summary: This is an open written section where you can describe yourself (there are suggested things to include in this box, to help you get started) – this is optional, but definitely good to do!
More choice selections: Items include marijuana use, hometown, languages, work, schools, political views, pets, exercise (all optional)
Trending Topics: Similar to Topics above, but these are a smaller selection to choose from – pick one or more and answer (optional)
And, of course, add more photos if possible!
Create your free Match profile now!

Didn't Match used to ask a lot of different questions during sign up?
The Match profile and sign up process of today is much different from years back. Below we show you what we wrote in 2014 about Match.com (as the service was referred to then). Back in 2014, they had you select the best looking celebrities, indicate your preferred eye and hair colour, and choose which face shape you preferred! Yes, different.
Below, we present Match.com in 2014 (the sign up process as well as profile details), as written by us back in 2014.
---
Ok, what does it take to sign up with Match.com?
Here's the sign up process for Match.com – as started directly from their homepage. Keep in mind that the screenshots you'll see below are shown for a Man seeking a Woman — and thus will differ slightly for other scenarios.
First off, select who you are and who you are seeking, including gender, age range and location.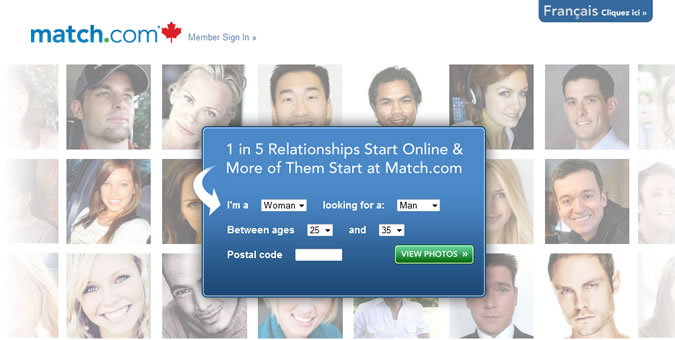 Then, choose your username (don't use your real name!) and password, input a valid email address, and select your birth date.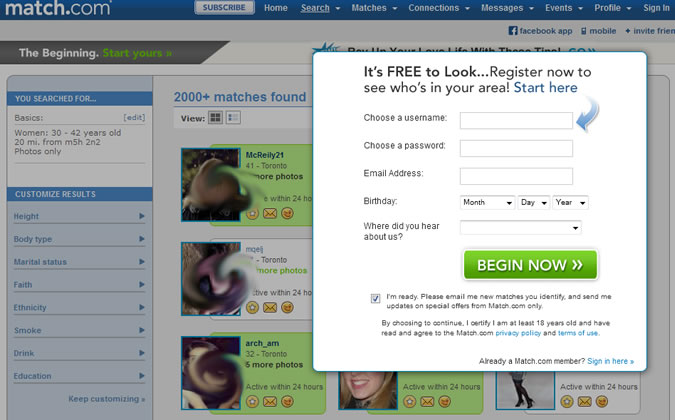 … and you're inside! To view profiles and such, however, you'll need to complete your profile.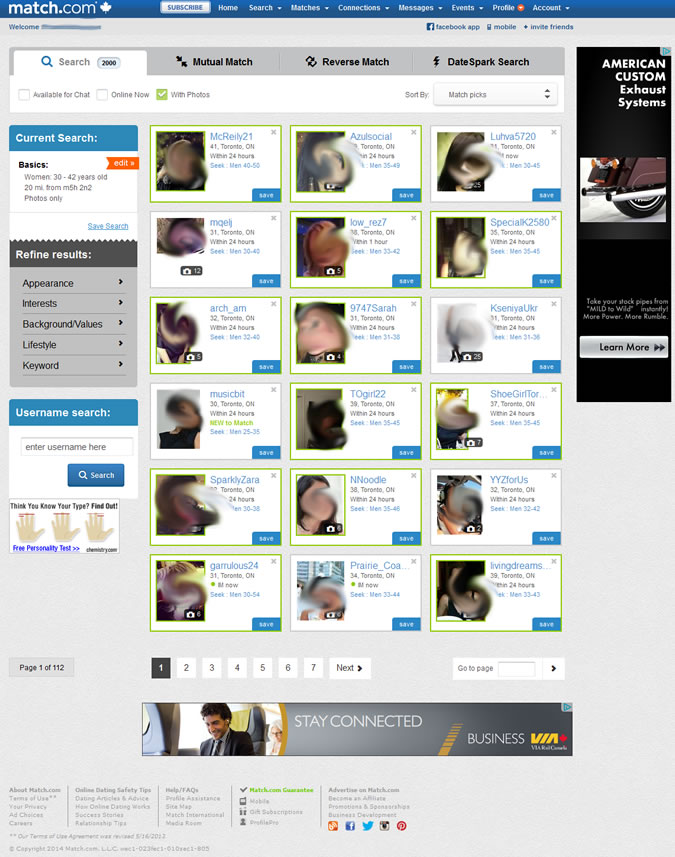 You'll be asked to confirm what you entered before about who you're looking for, and also set how far away you're willing to look for a match. Obviously, the larger you make this distance the more matches you'll have available to you.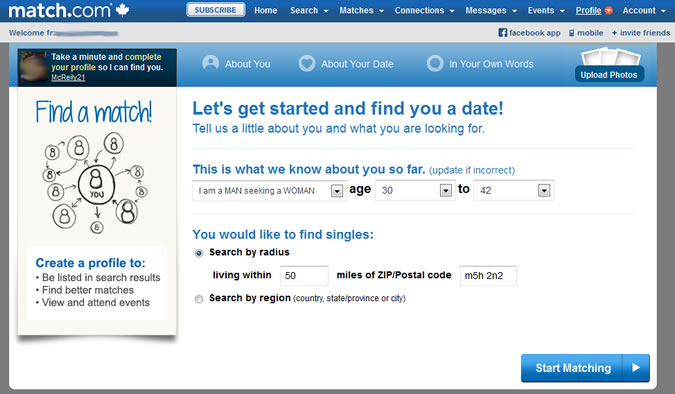 From there, indicate your physical characteristics and zodiac sign.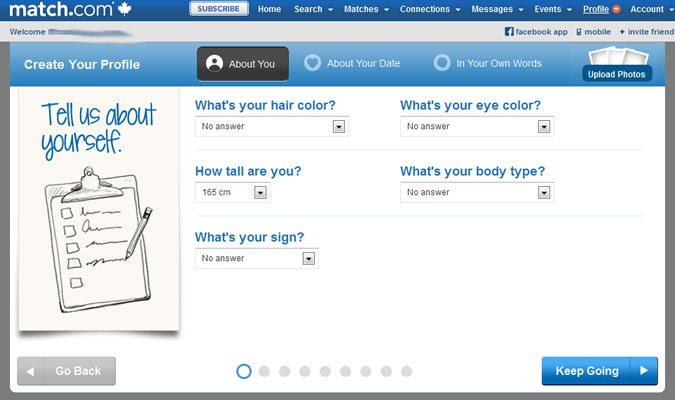 Select your relationship status (never married, divorced, widowed, etc.), occupation, salary (not required!), and the number of children you have.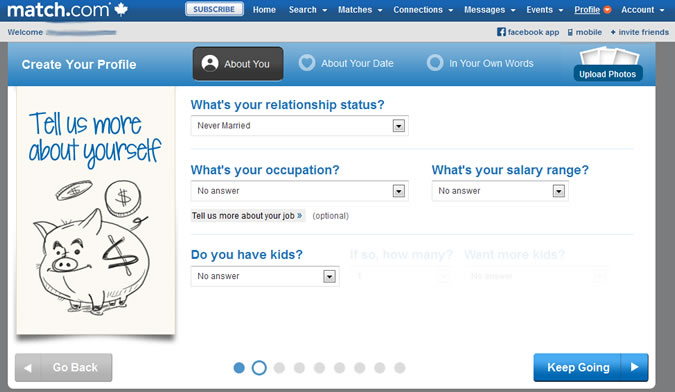 Now for your habits: How often (if at all!) do you drink, smoke and exercise. Also, select any sports you play.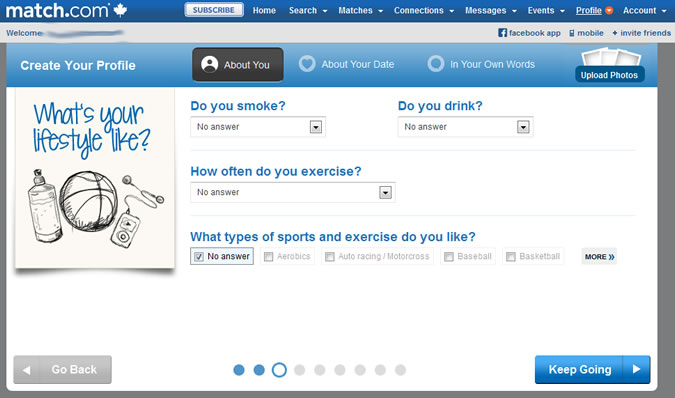 Select the education level you've completed, your languages spoken and ethnicity.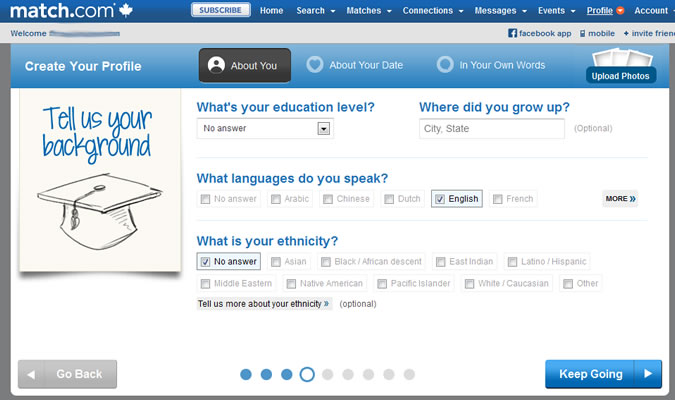 Now more personal questions: religion, political persuasion, and charity givings. Also, your spending habits (that last question being asked about what to do with an unexpected bonus).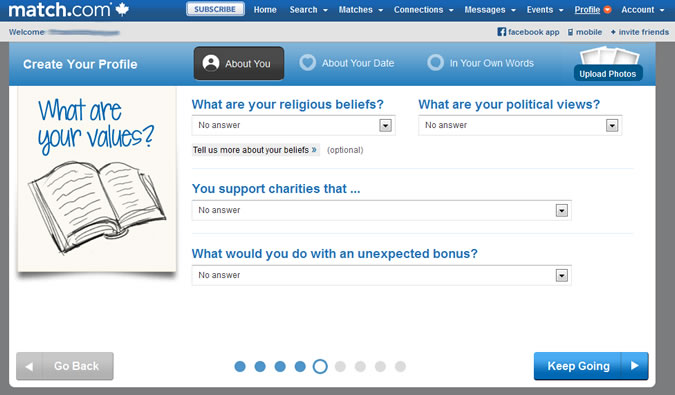 Select what kinds of movies you like.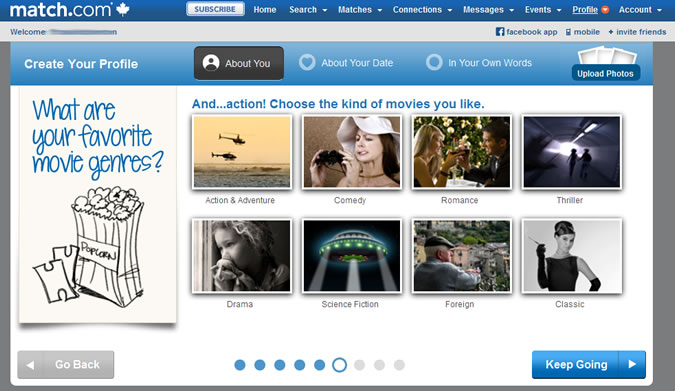 Choose what you consider a great getaway destination (or that you would rather stay at home if you had 2 weeks off!)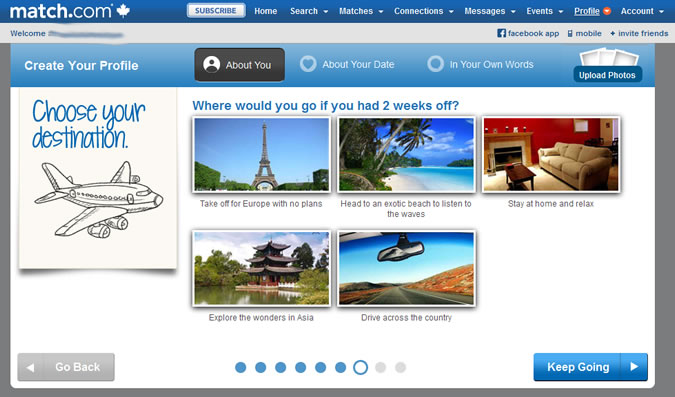 Add some local bars, coffee shops, restaurants, or other places you like to spend your time at. Also, what are your thoughts regarding pets?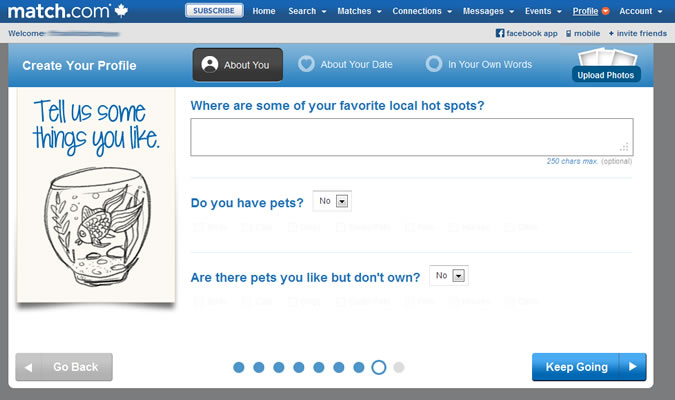 Indicate your interests, hobbies and favourite books you've read.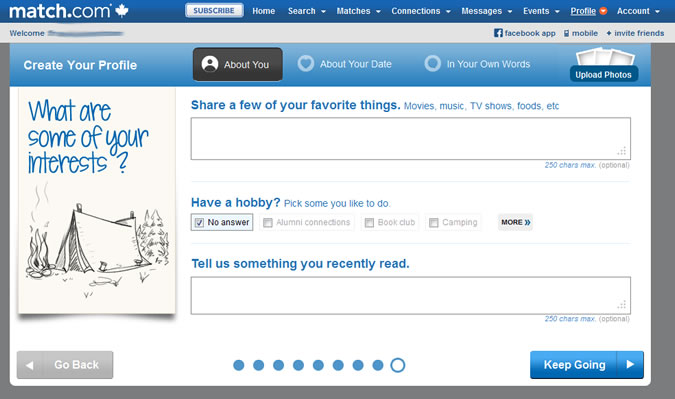 At this point you've completed most of what there is to say about you. It's time to talk about what you're looking for in a match — What type of person are you seeking?
The first question regarding a potential mate is regarding physical characteristics.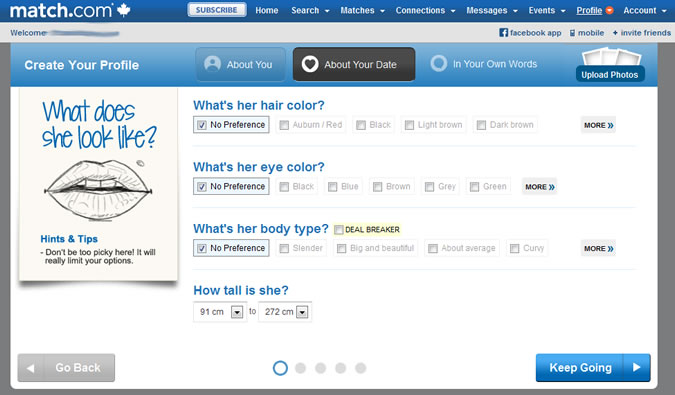 If you have a preference on the education level achieved of your match, you can enter that. Also indicate any preferences for languages spoken by a potential partner.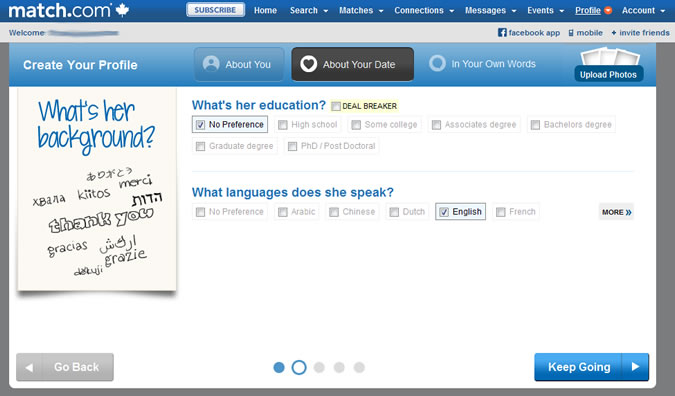 You then have the option to indicate any religious or ethnicity preferences.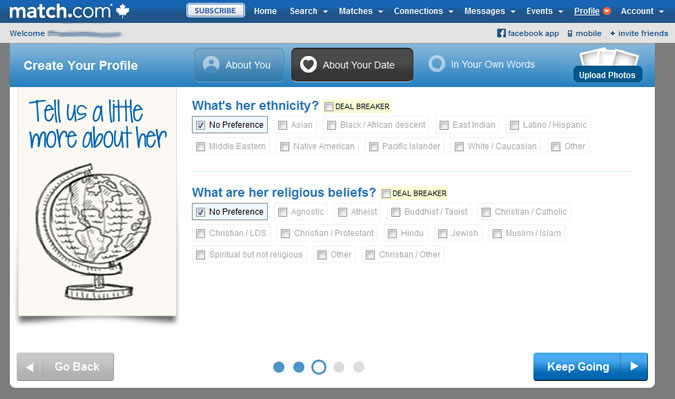 The "Relationship Status" question allows you to indicate whether are only looking to date those who are single-never-married (for example). Also, whether your match can have kids already – or wants kids. Children are definitely a deal-break issue for many.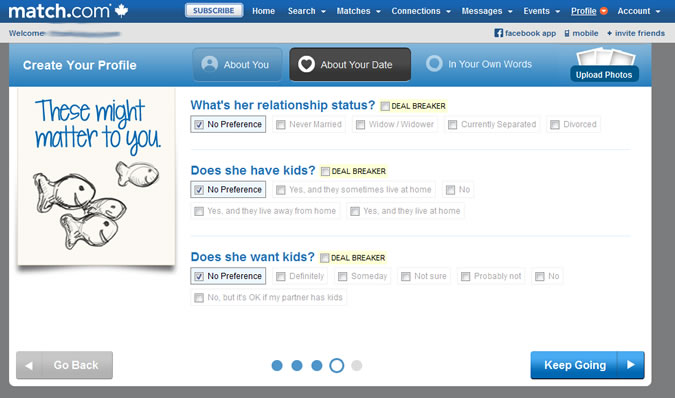 Next up in the amount of drinking and smoking that you would entertain in your partner. Also, if you're super specific on a match making a certain amount of money, here's your chance to indicate that.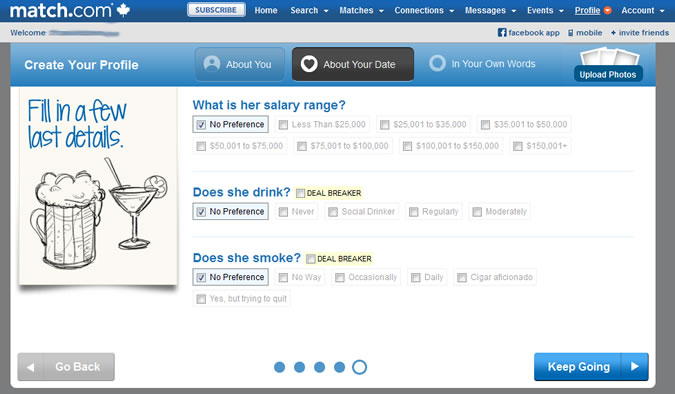 Back to your dating profile: Your profile headline is what usually shows in the search results as well as on your profile. Consider it a short attention grabber. Think about something that really reflects who you are and what you're about. It's usually a good indicator of whether someone it creative, funny, quirky, etc.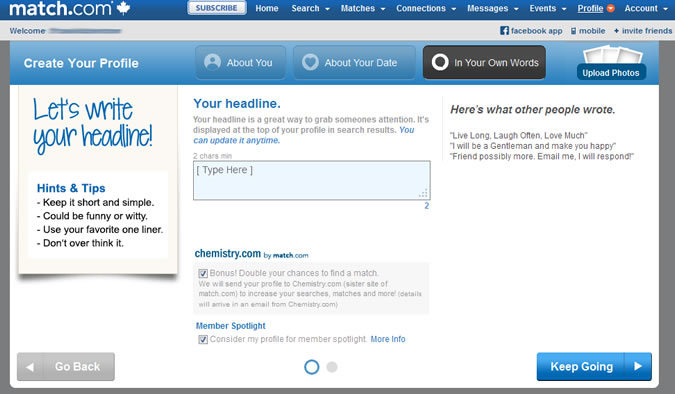 Now, you have the space to really describe yourself and the type of person you're looking to meet. Don't treat this section lightly. This is where your profile can stand out among the rest – and how others can really get a feel for what you're all about.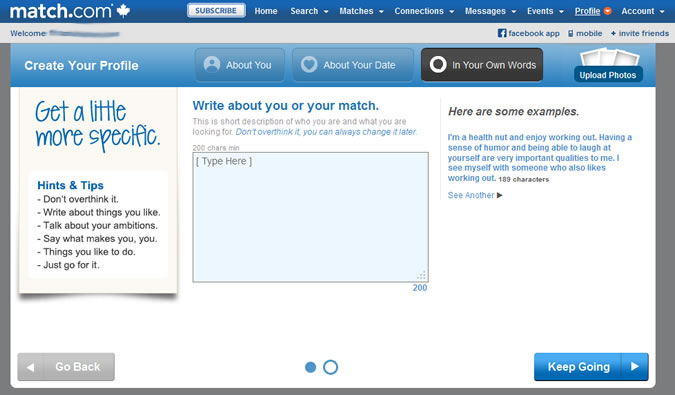 Your written profile is now more-or-less complete, and you have the opportunity to upload photos (which you *really* should if you expect to meet anyone). Match.com says profile with photos receive 15 times more 'attention'. As you can see below, you can upload photos from your computer or directly from your Facebook account. You can upload up to 26 photos to your profile!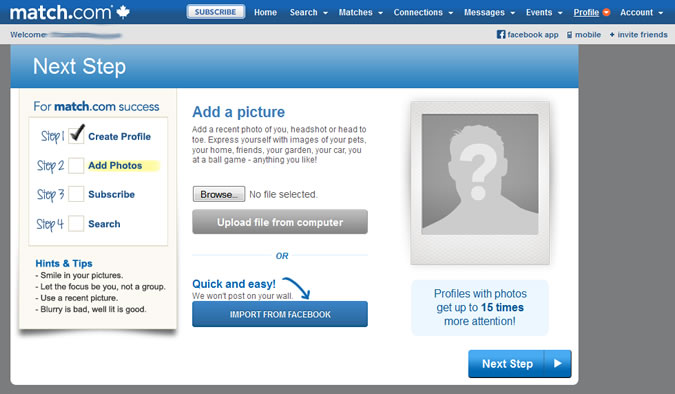 That concludes filling our your base profile. It won't be live on the site until it's reviewed by staff. Once it's deemed 'ok', it will appear live on the site and you will be notified of such by email.
At this point, you can also answer an optional short image-based quiz to help Match.com give you better matches.
Who do you feel is the most attractive, of these celebrities?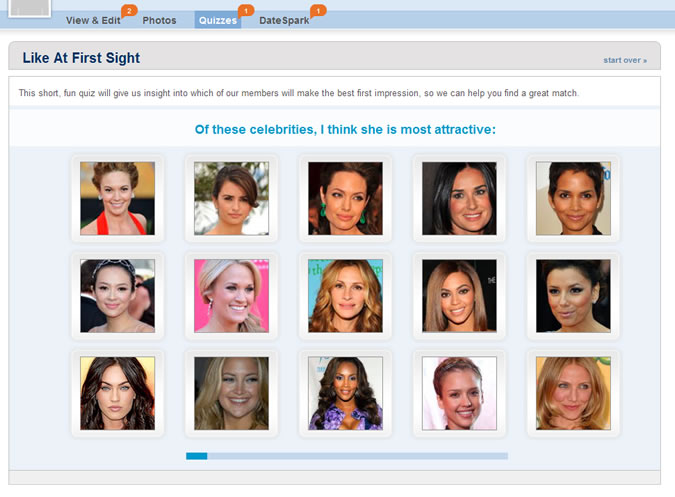 Which body figure do you find most attractive?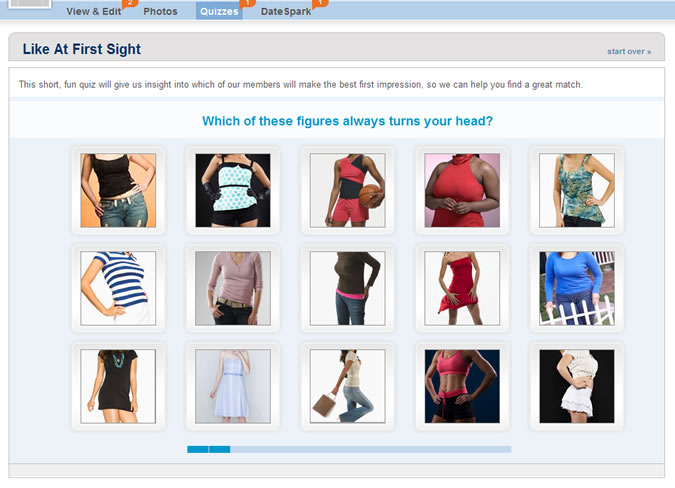 Which face shape do you find most attractive?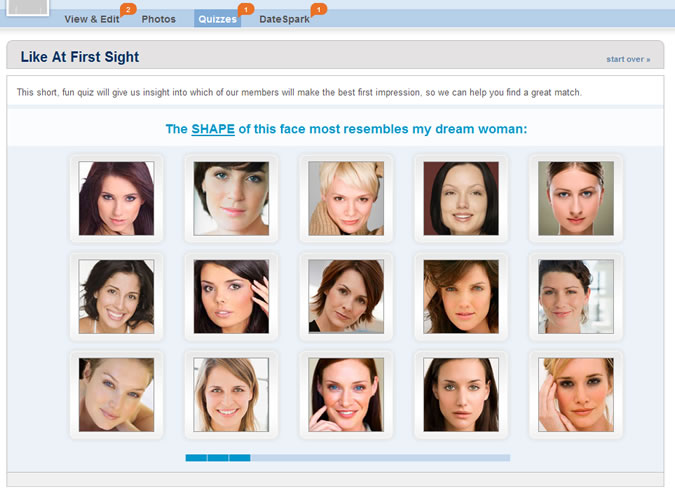 Which body part catches your eye the most?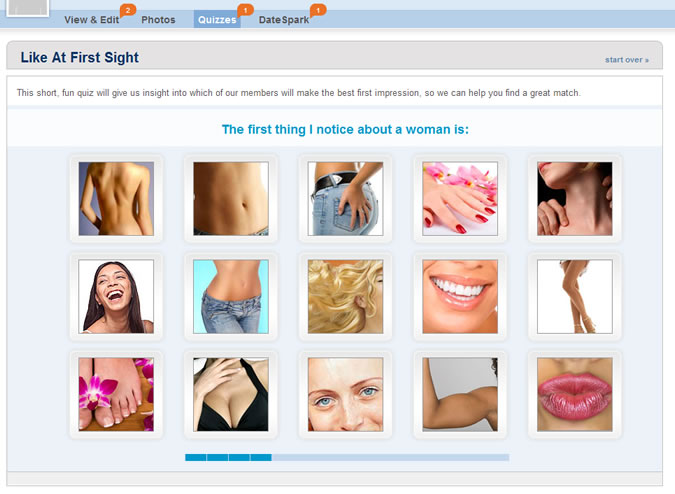 What hairstyle do you find most attractive?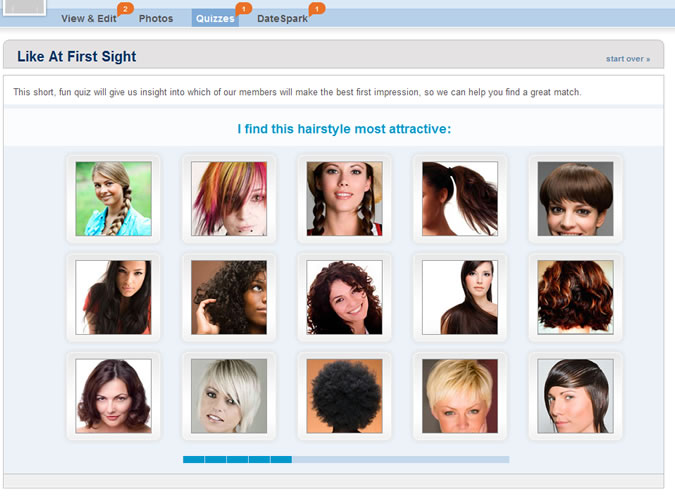 What clothing style do you feel your ideal match would have?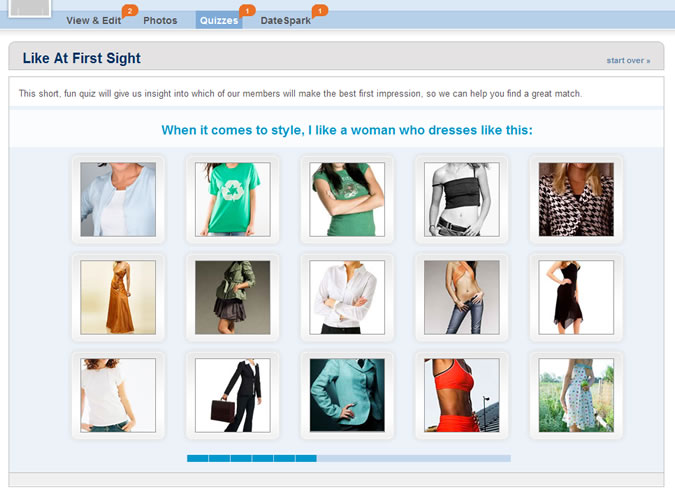 Which of these body 'accessories' do you notice?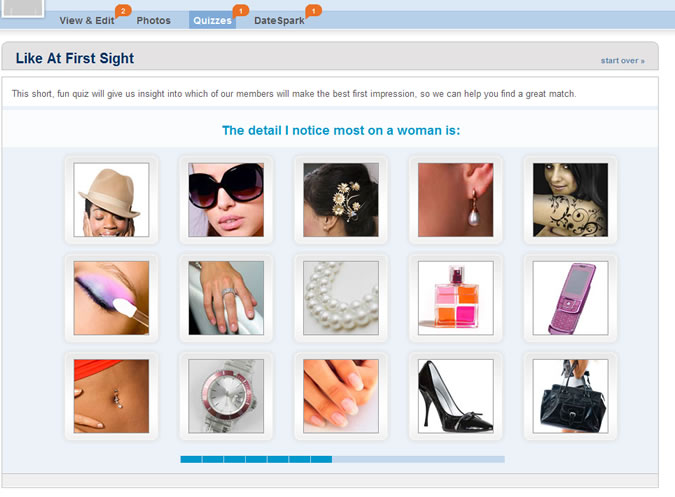 Which of these 'looks' do you find sexiest?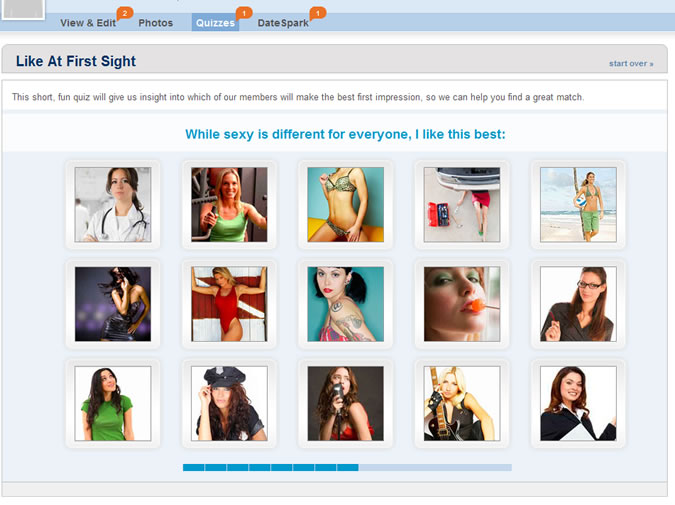 Which of these voices are you most attracted to (you click each to hear a short audio clip)?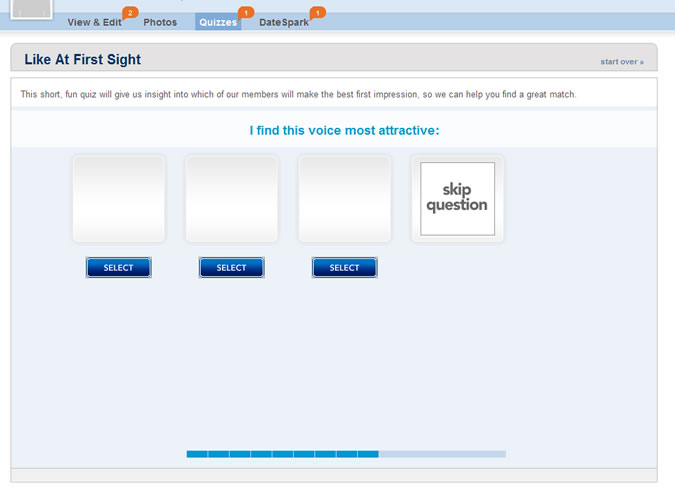 Which of these types of people do you gravitate towards?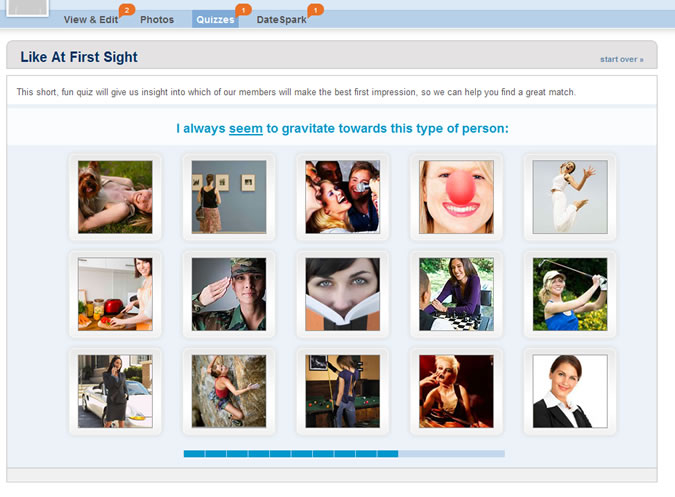 Which of these types of people do you *wish* you gravitated towards?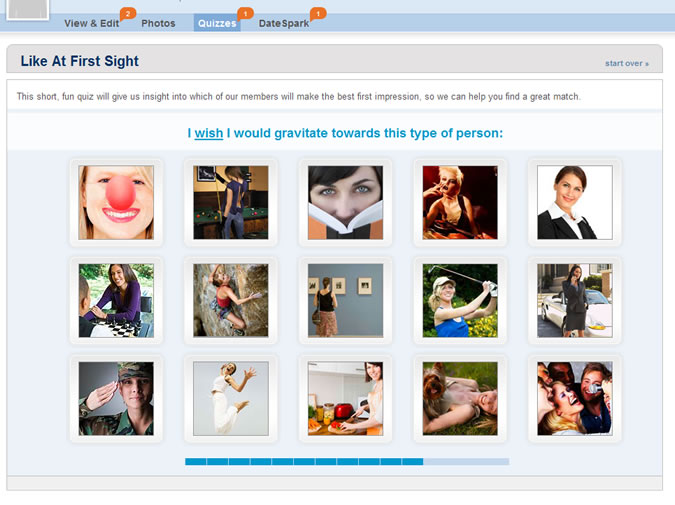 What can you do as a couple to become closer? Which of these represents that best?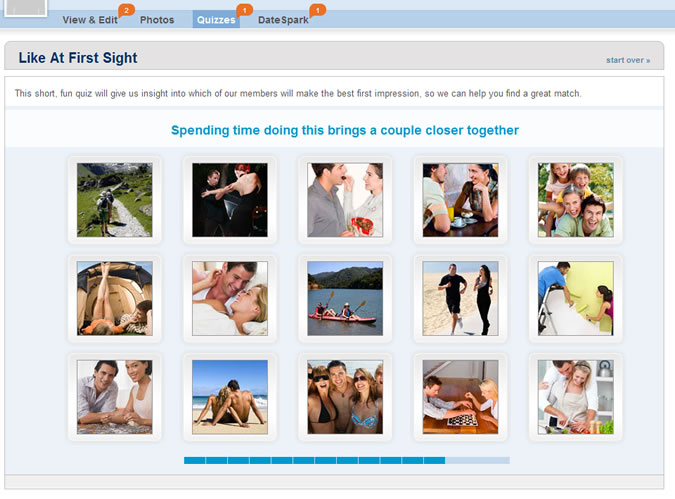 A great date involves…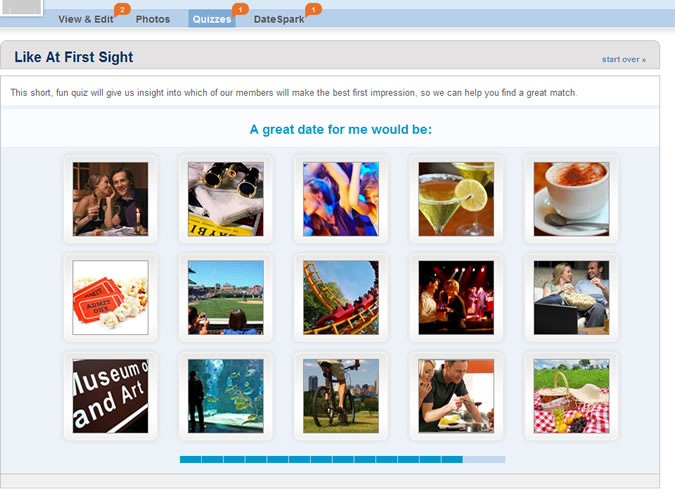 What type of drink would your partner order – that you find attractive?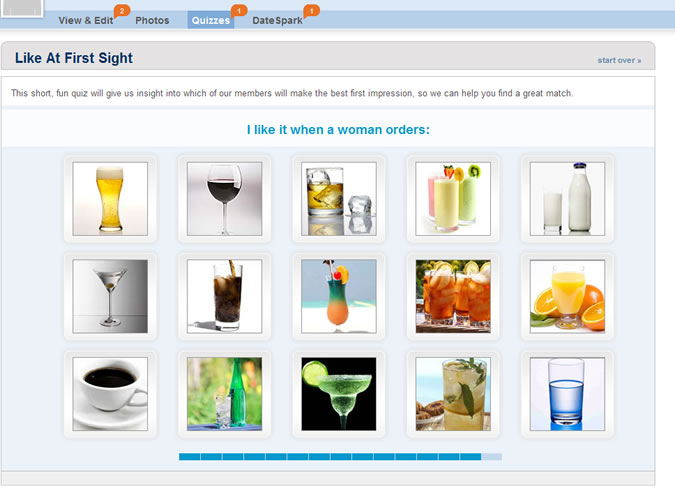 So, I sign up for free by creating my profile – What types of search options are there?
You have a more than a few options for how to search other dating profiles. This is one thing Match.com does quite well, compared to a lot of online dating sites.
First up is your regular Search. On the left side of the screen you can select categories and select options to refine your search. As shown, you can also choose "Online Now" and "Available for Chat". A username search box is also available.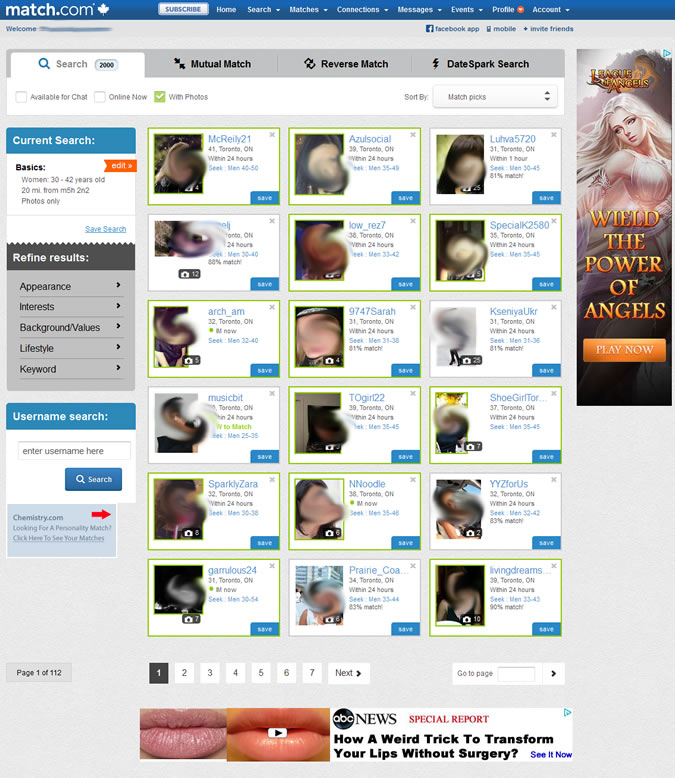 Mutual Match is likely the most powerful of the search tabs. It shows people who you indicated meet your criteria WHO ALSO have indicated your profile meets their criteria.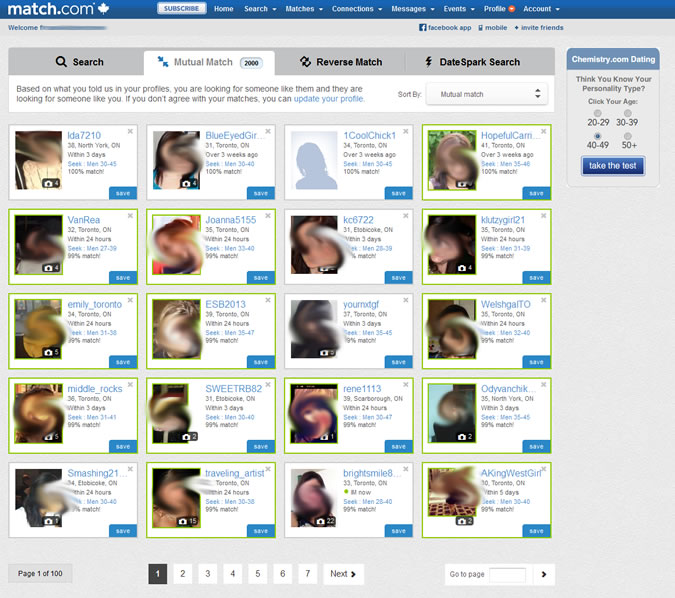 Reverse Match shows profiles of those whose criteria matches your profile (i.e. you will show up in their search results!).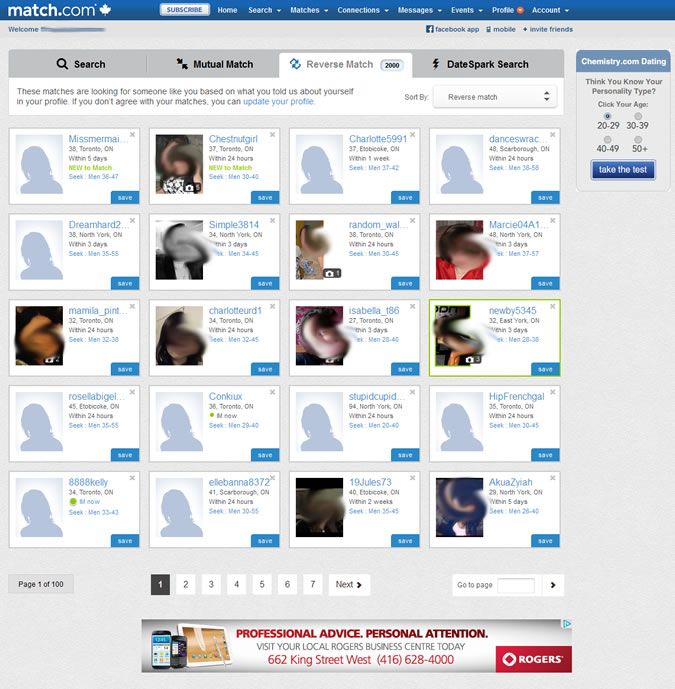 The Datespark screen is a bit different than the others. It shows members who have proposed types of dates. If those dates interest you, you can get in touch!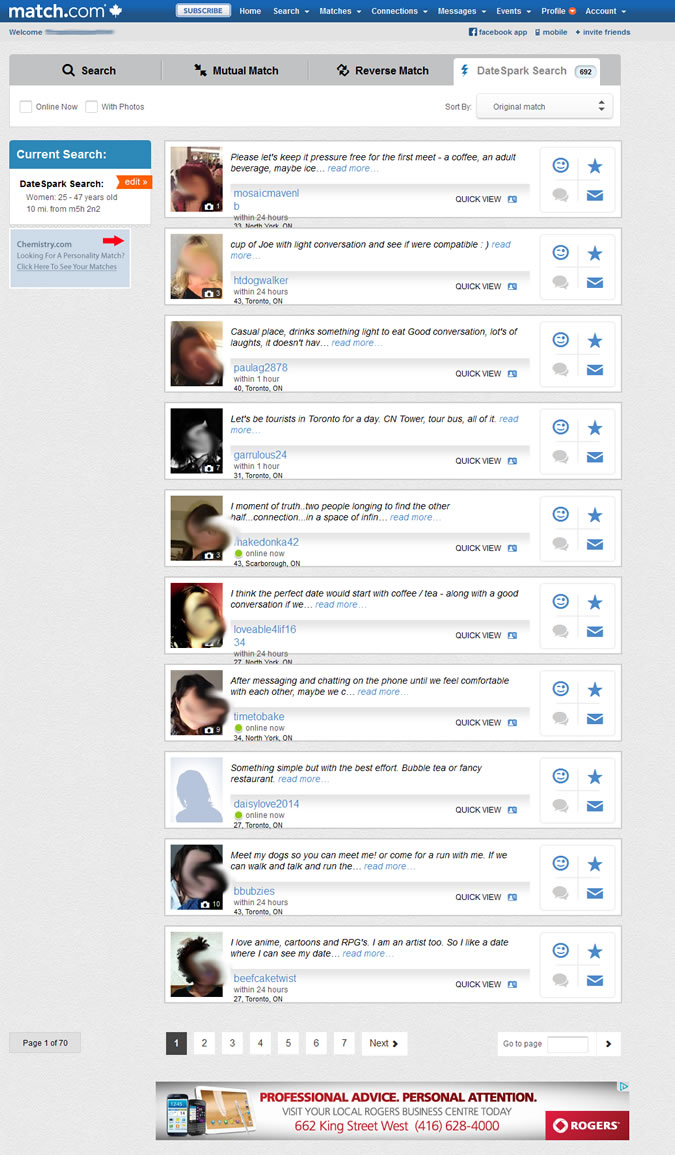 Ok, I perform a search and click on a profile, what do I see?
Dating profiles on Match.com have four tabs, as shown below.
The primary profile view, starts by listing what many consider the most important (or "deal breaker") type items (such as marriage status, whether they have kids, whether they want kids, smoking/drinking habits, etc.). Accompanying that, listed are a few items that you and this person have in common (e.g. "You both love to travel").
Beyond that, a fully open written section lets the person describe in writing about themselves and the type of person they are looking for. Below that are a listed set of interests. Items highlighted in yellow show where you and the profile match up.
Finishing off the profile is a direct comparison of characteristics of the person and the type of person they are looking for (appearance, lifestyle, background/values). Again, yellow highlighted items indicate how you fit the criteria of the person this profile is seeking.
To me, it's a great layout to instantly see how you and this person match up.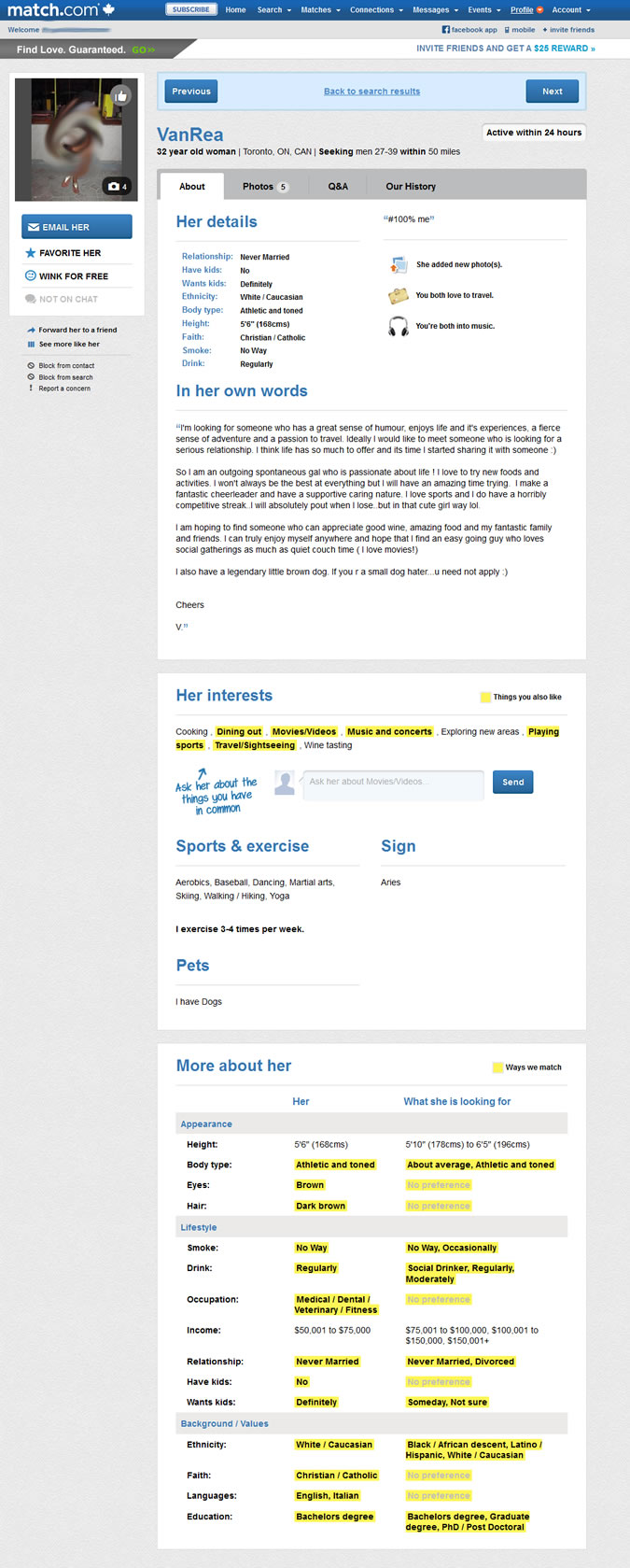 The second tab shows all the photos this person has posted. Match.com allows you to post up to 26 photos to your profile! For each photo, one can comment directly relating to that photo.

The 'coming soon' Q&A section, I'm guessing, will be much like that of OKCupid (who is now owned by the same company as Match.com). These questions will help further refine matches and compatibility.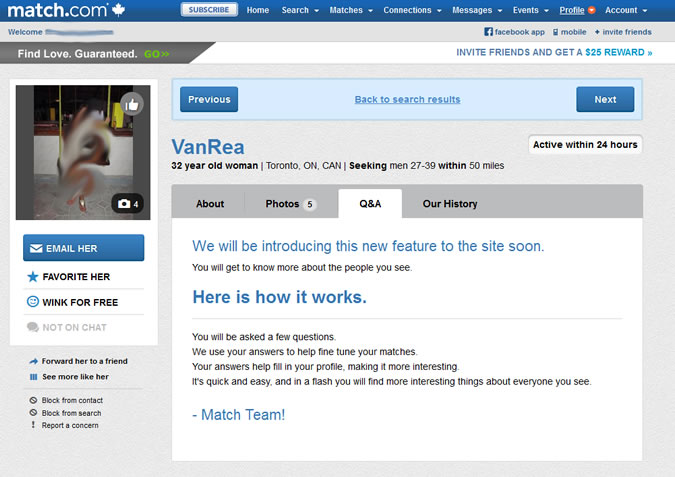 The final tab shows the messages that you and this profile have exchanged. Sometimes a person will change the photos in their profile and you may not recognize it as being someone you conversed with in the past. You have a tab here to find out just that!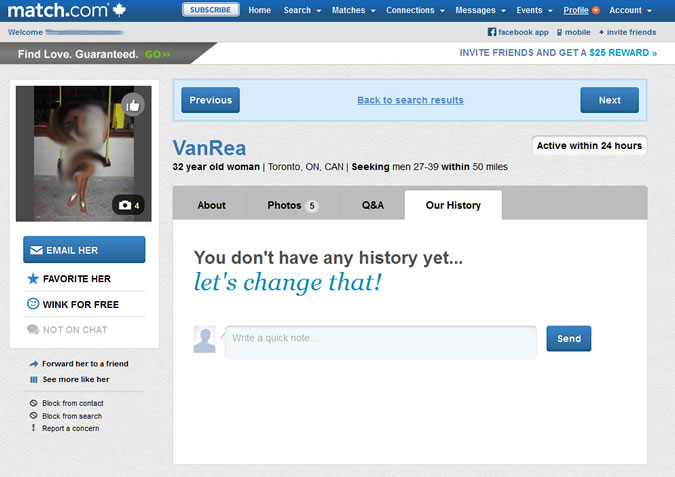 ---
There you have it. What it takes to sign up with Match today – and what it used to look like!