One may think a dating site targeting Military singles may be one that's a bit more on the serious side, considering the fine men and women are putting their lives in danger for their country.
Well, if you're MilitaryCupid.com it's all about the click-throughs. Click-throughs no matter what. Exhibit A and B below: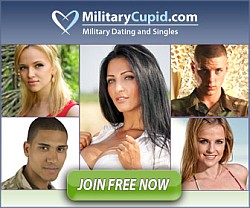 So, when MilitaryCupid.com says they're "helping thousands of military singles and civilians find their perfect match in uniform" they mean military folk matched up with busty babes, I guess.